Our messaging feature is now available to the users of our family matching service, Family Networks. This new feature means you can contact family matches instantly and engage with them on a regular basis.
So here's how it works:
Step 1 - Opt into Family Networks
To be a part of Family Networks, you will need to make sure you have opted in to this service within your Living DNA portal. To do so, log into your Living DNA account, go into the test that you want to be opted in and click on the Family Networks icon. This is displayed on the left hand side menu within your Living DNA portal, as shown below: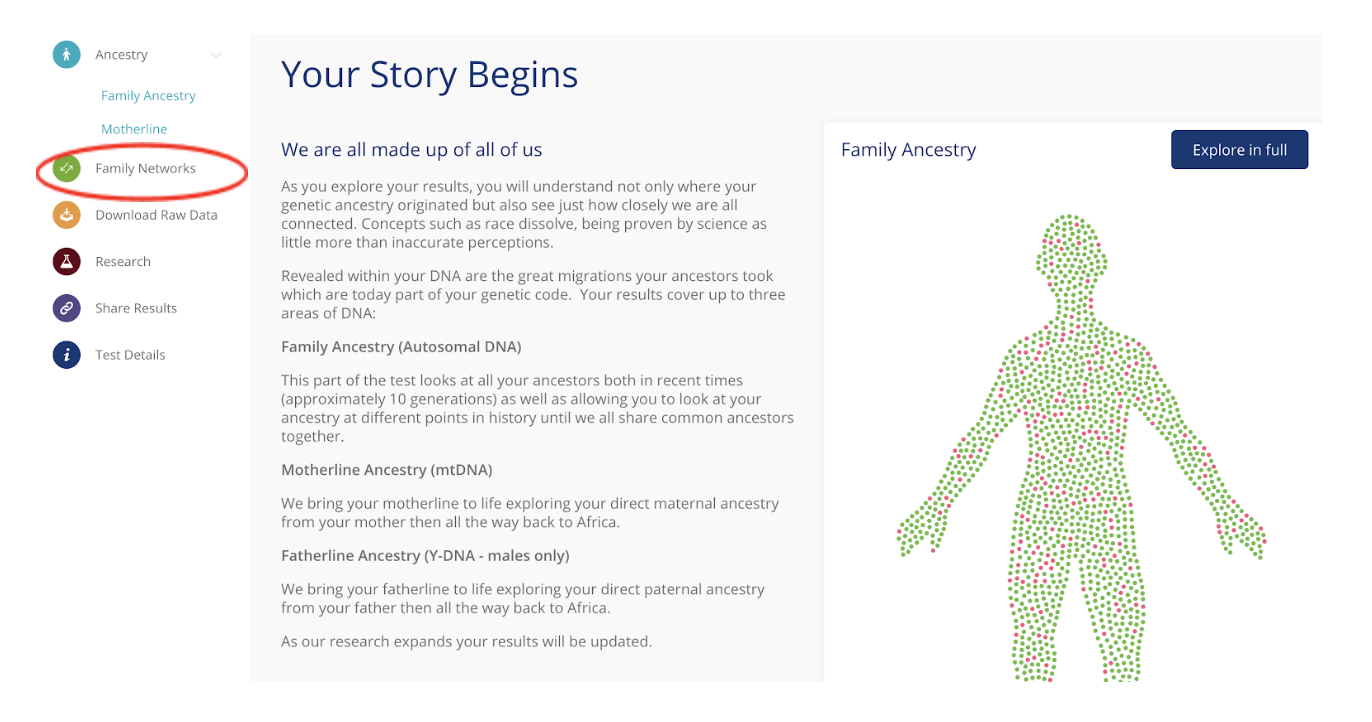 Once you have opened the Family Networks tab, all you have to do is click "yes, let's go", consent to the terms and conditions and you are in.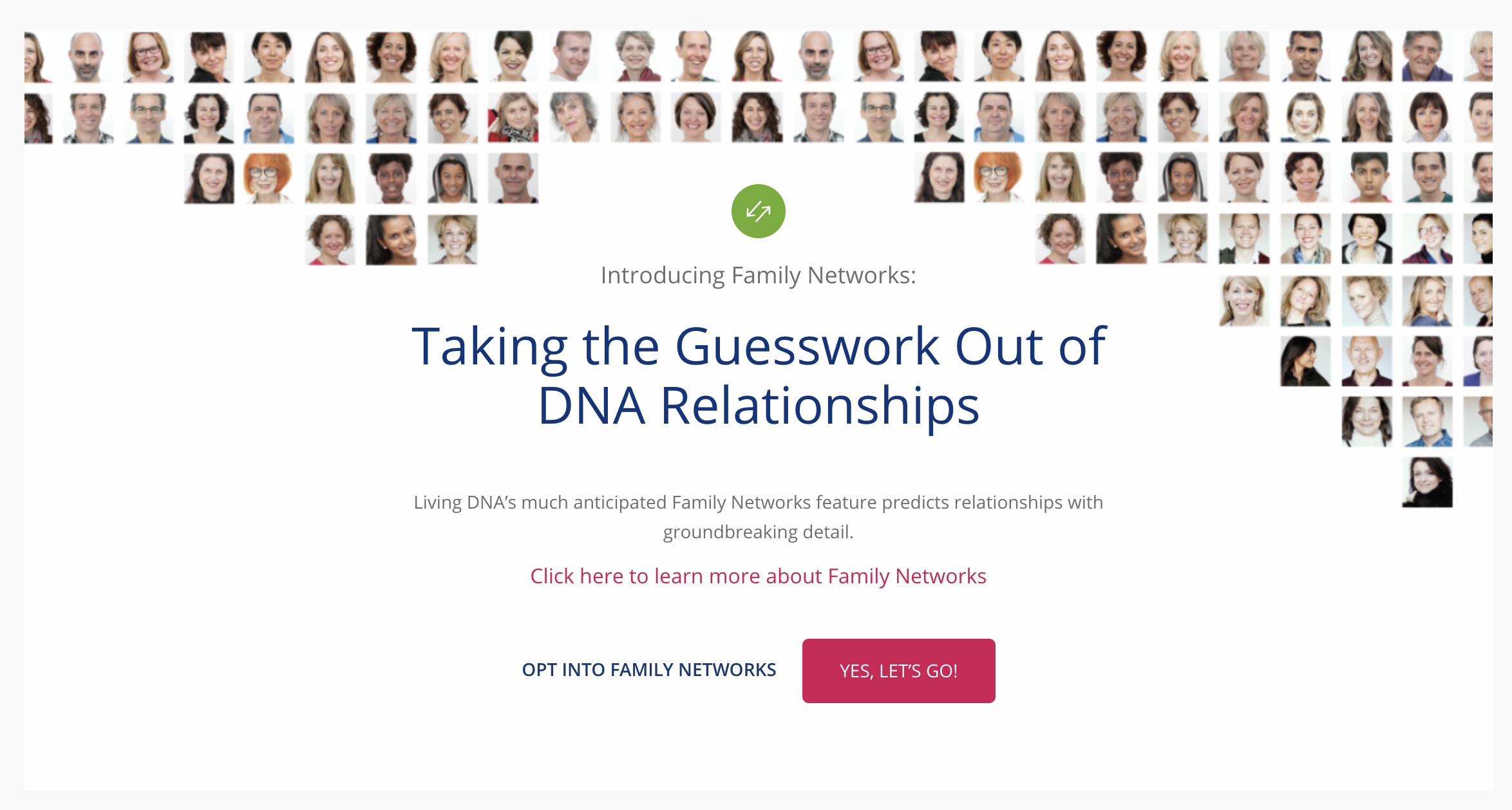 Step 2 - Matches
Now that you have opted in, your DNA match journey can begin. Your DNA is compared against the people who have also opted into Family Networks all across the world. Our database is growing each and every day and all new members are released into the pool every two weeks. If you and your DNA match have both opted in at different times it is possible that you will not see the family match until the next release of new members.
Step 3 - Your Match Results
Your family match list is displayed within the Family Networks section in your portal. Each family match presents the estimated relationship distance to you and the amount of DNA (in Centimorgans) that you share. Your DNA match list will look something like this: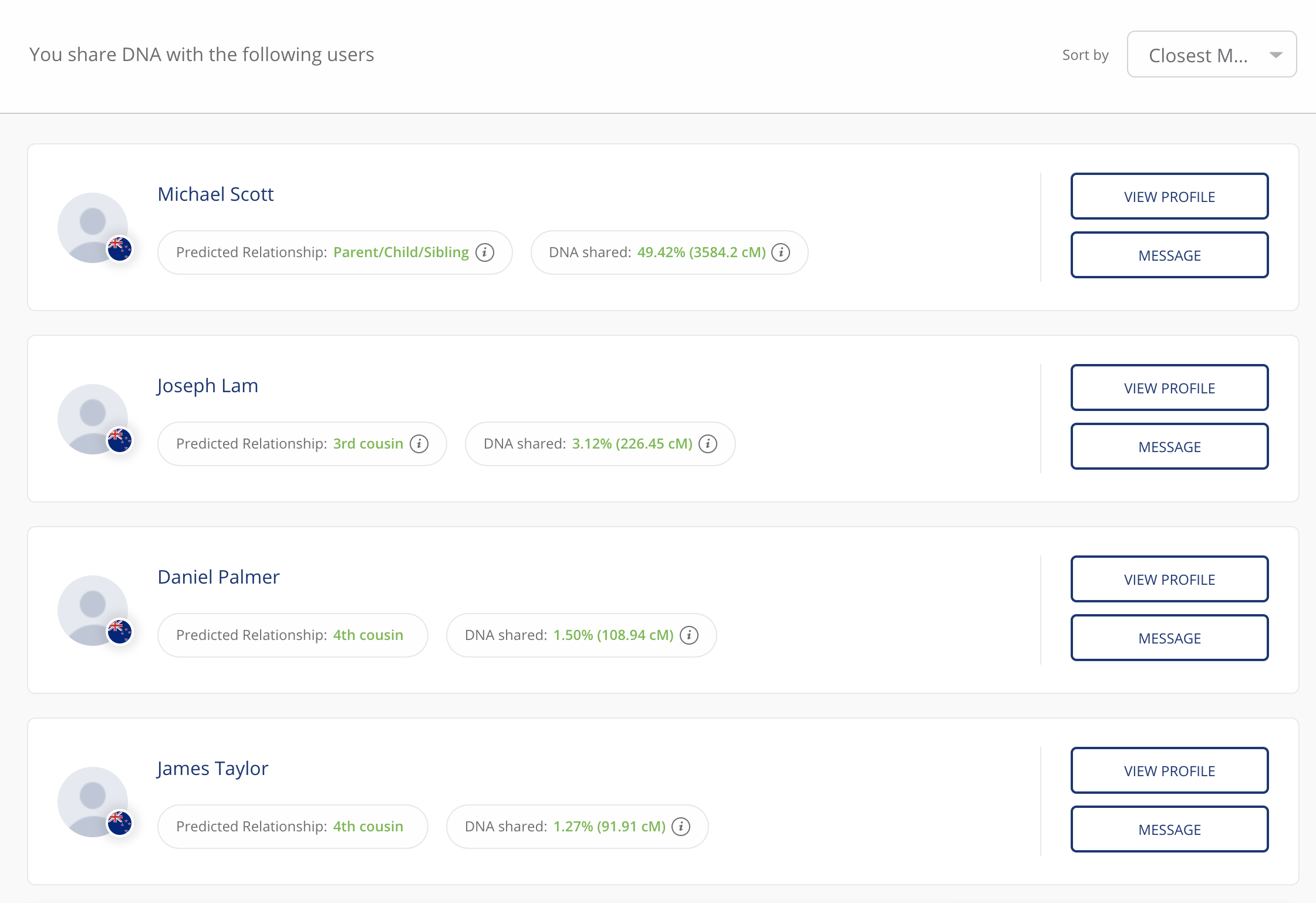 You will also see the name of each of your DNA matches. You can choose to view the profile (view profile) or contact the matched person (message) by clicking on the corresponding button on the right-hand side of the list.
Step 4 - Sending and receiving messages
Once you decide to contact one of your DNA matches you will see the messaging interface. This gives you an overview of the person you wish to message and the chat box for you to use. Type your message in the text box - you can even add emojis here too. Click 'Send' and then await a response. Each message is time stamped so you can see when a message was sent or received.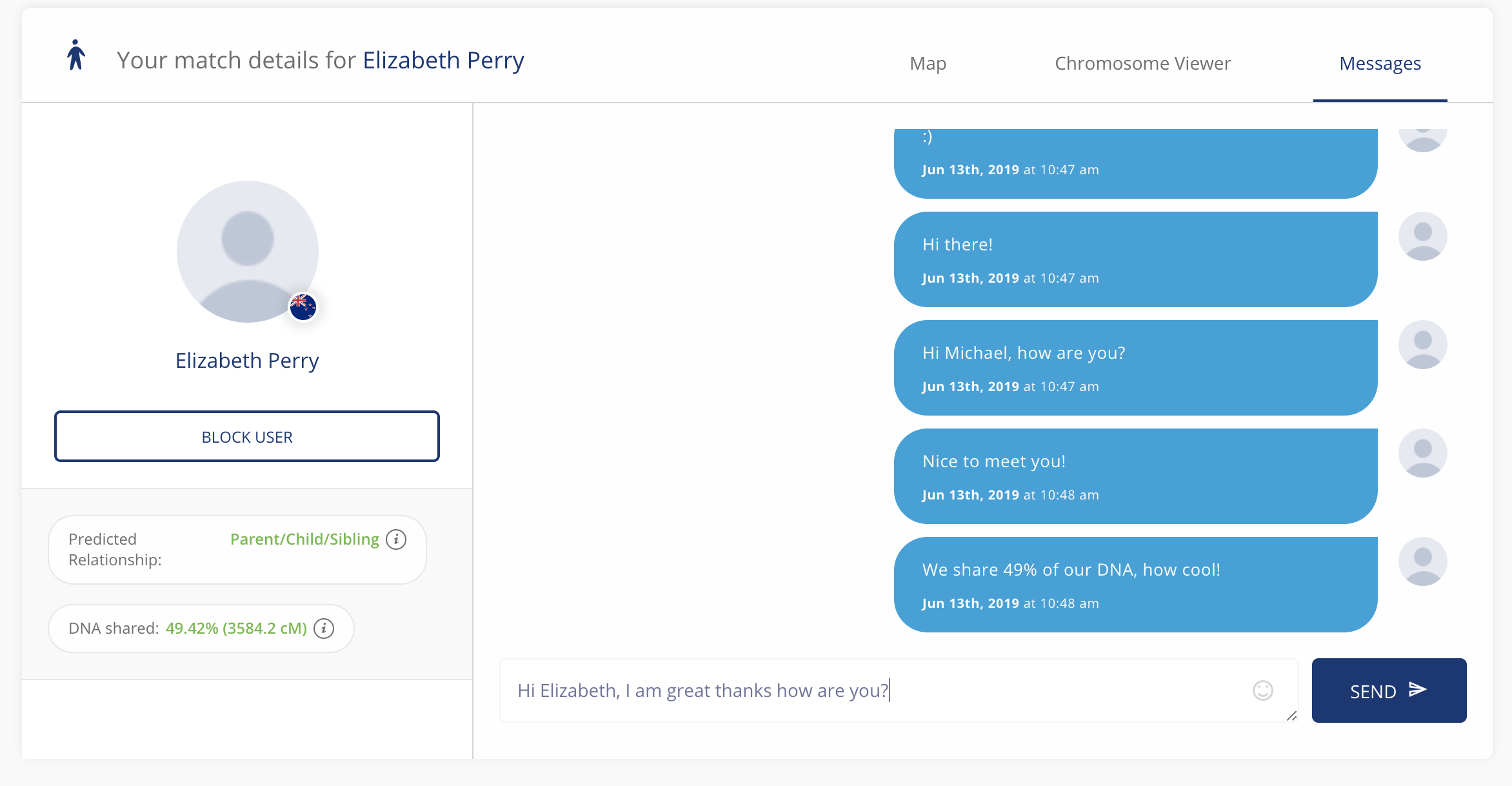 Top tip - hitting Enter or Return on your keyboard while typing your message will not send your message. You must click the 'Send' button for the message sent to your match. We understand reaching out to a match can be exciting so this feature was purposefully designed to allow you to check the content of your message before sending.
We would like to thank everyone that took part in our initial messaging feedback survey. Our team are working hard to implement any updates and improvements to this particular feature over the coming months.
The first update to be implemented is the sending of an email notification once you have received a message from a family match. This should now be live in your portals, the ability to opt out of receiving these notifications will be live in the next few weeks.
FAQS
Why don't I have any matches yet?
When we set about deciding if we should offer DNA matching or not, we came to the conclusion that for many people it's not the number of matches you have but how Living DNA can identify and match you with that one key person not found on other databases. That is one reason that Family Networks currently only matches those who are closer than 7th degree relatives.
With the large majority of our customers only testing at Living DNA (due to our rigorous European data laws) and many choosing not to upload their data to other sites, we've already had numerous people find close relatives who were not on other platforms.
Is there a maximum character limit when sending a message?
Yes there is, the maximum limit is 1,000 characters.
I am pressing the enter button once I have sent a message to my match, why isn't the messaging sending?
Hitting the enter button once you have written out your message will not send your message. You must click the 'Send' button for the message to be delivered to the other person. We understand reaching out to a match can be exciting so this feature was purposefully designed to allow you to check the content of you message before sending.
So, what if I am a Living DNA user and I manage multiple kits?
At the moment you can only use messaging for your own DNA kit - not for kits you manage on behalf of other people. But this feature is being developed inline with privacy regulations.
What if I receive a message from a DNA match and I do not want them to contact me?
Whilst we are aware that receiving a message from a DNA match can be exciting, it can also be a daunting prospect. If you do not wish to be contacted by a match, you can block that user by pressing the 'Block User' button and they will not be able to send you any messages. You can undo this later if you wish by selecting 'Unblock User' in the portal.