DNA testing for ancestry is a captivating subject that offers individuals a profound journey into their own past.
You might have already had your DNA tested - elsewhere or with Living DNA - or you might be new to DNA testing. Either way, the question has probably crossed your mind: "how does it work?"
In this blog we'll explain the basics!

What are SNPs?
You might have heard the terms 'autosomal' and 'SNP' while researching DNA tests, but what do they mean?
Our DNA is made up of chemical units called nucleotides, and SNPs are variations that occur when a single nucleotide differs between individuals.
Sometimes these are described like spelling variations in our genetic code. Try thinking of your DNA as a long, written book of instructions for making and operating a person. There are only 4 letters in this book: A, T, C, and G, repeated over and over in different combinations.
Now, imagine a sentence in this book where one letter is different in one person's copy than in another's. That's what an SNP is - a single letter change in our DNA, which is why it's called a Single Nucleotide Polymorphism (although SNP is much easier to say, if you're in a rush).
SNPs can influence traits like eye colour, height, or even our risk for certain diseases. For example, one SNP might change the "C" in a gene that can help protect against sunburn to a "T" which will make someone more prone to sunburn.
"Autosomal" is a term that specifically refers to the chromosomes in our cells which are not related to determining our biological sex. In our bodies, we have 23 pairs of chromosomes, and one of those pairs is involved in determining whether we are genetically 'male' (XY) or 'female' (XX). These are called the sex chromosomes.
The other 22 pairs of chromosomes are known as autosomes. They carry all the SNPs that give instructions to our bodies, like what our eye colour, height, and susceptibility to certain diseases might be.
While 50% of your autosomal DNA is inherited from each of them, you will get a random mix of each parent's DNA. Mum's half might be broken down into 50% of each of her parents, but from Dad it could be a 60-40 split, or even more uneven. It's a completely random process and no one can predict what genetic markers you'll inherit or from which ancestors.
Comparing your DNA to a reference database
When you send us your sample, we extract the DNA and test for specific SNPs.
Every company has its own mix of SNPs that it's looking for, as every company builds its own reference databases - usually called 'panels' - containing DNA information from people around the world with which to compare your DNA. The goal is to find SNPs in your DNA that match those in the panel, like a complex puzzle.
Living DNA's reference panels are made up of some genetic profiles from external research that we've been granted access to (such as the People of the British Isles project run by the University of Oxford), and our own research conducted with customer data.
You can consent to having your data included in our research through your online account, click here to find out more about helping us improve our analyses!
Ancestral and Genetic matches
By identifying where you share SNPs with our reference panels, we can provide information about your ancestral origins - where your family has come from for up to the last 10 generations - although because of that recombination process happening in each generation, you might lose traces of a specific ancestor's regions much sooner than this.
With our Family Networks matching service, we can also connect you with individuals who share a significant number of SNPs with you - meaning that you are related - from a parent or sibling up to a 4th cousin or, even further.
In essence, DNA testing for ancestry is like comparing puzzle pieces. Your DNA is unique to you, and by comparing it to the puzzle pieces of other unique people in our database, we can help you piece together your ancestral heritage and discover potential genetic relatives.
It's a complex process that has revolutionised our understanding of personal ancestry and connections to distant relatives.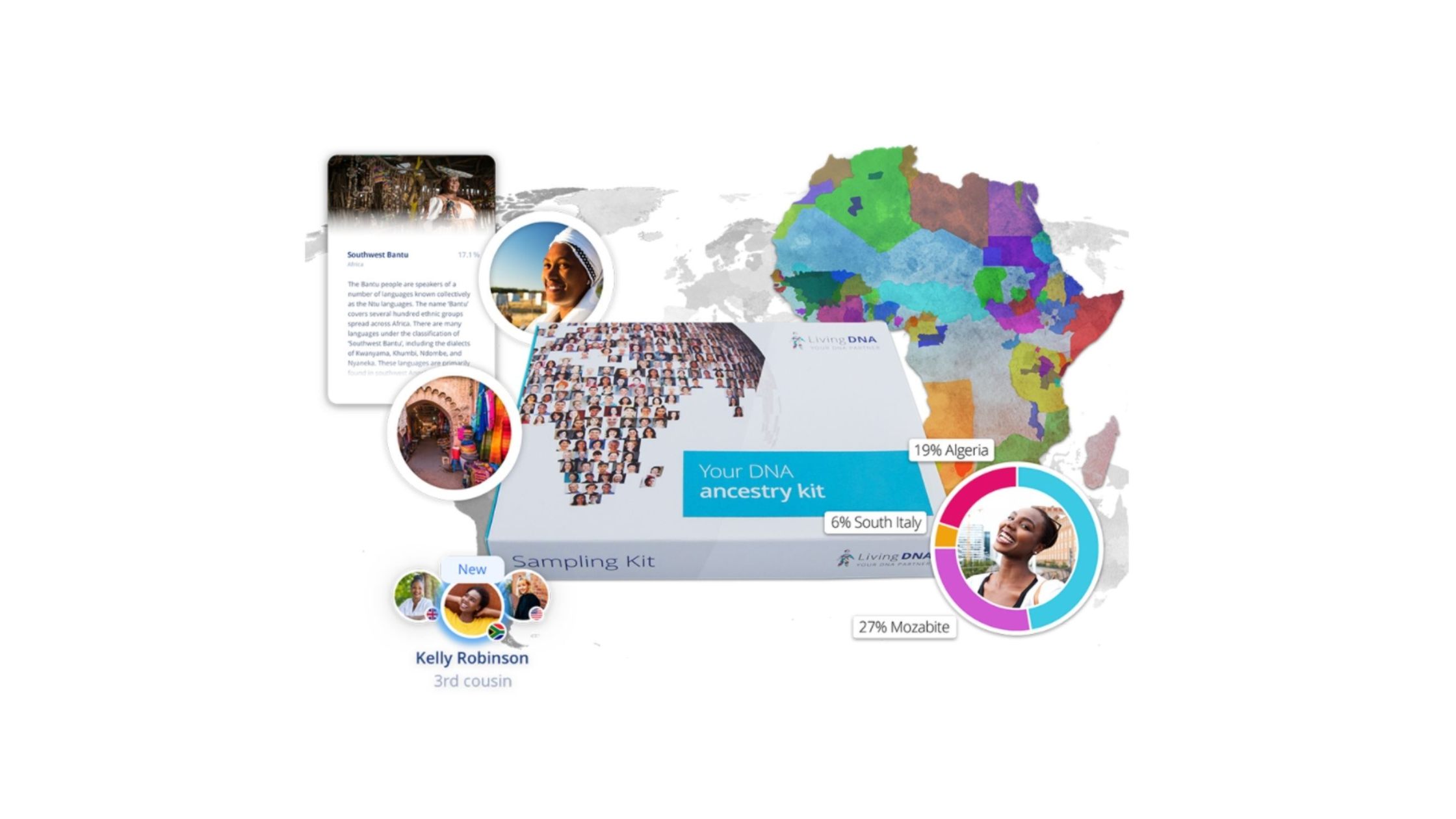 You can begin your journey with Living DNA by purchasing a kit. Click here to compare the tests we have available today!