How do I join Family Networks?
Joining our DNA matching service is now much easier than before. We have now made a simple click opt-in button within your portal that clearly shows you if you are part of Family Networks. Alongside this, you will now have much clearer visibility of your matches and status of results.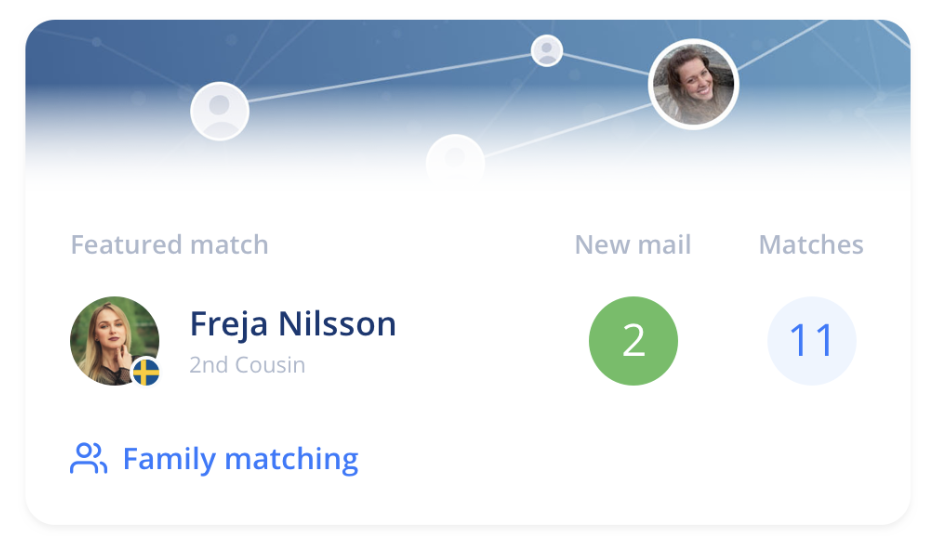 How do I know if I am opted in?
To check you have opted into Family Networks, log in to your Living DNA account and head straight to your dashboard. You will see a widget or button that will show you your Family Matching results, so either any matches you have or a note to remind you to keep checking back for future matches. If you have not opted in, the widget will remind you of this and you can then opt-in by clicking here.
Living DNA matches VS other companies
When we set about deciding if we should offer DNA matching or not, we came to the conclusion that for many people it's not the number of matches you have but how Living DNA can identify and match you with that one key person not found on other databases. That is one reason that Family Networks currently only matches those who are closer than 7th-degree relatives.
With the large majority of our customers only testing at Living DNA (due to our rigorous European data laws) and many choosing not to upload their data to other sites, we've already had numerous people find close relatives who were not on other platforms.
How do I view and send messages?
Once you decide to contact one of your DNA matches you will see the messaging interface. This gives you an overview of the person you wish to message and the chatbox for you to use. Type your message in the text box - you can even add emojis here too. Click 'Send' and then await a response. Each message is time-stamped so you can see when a message was sent or received.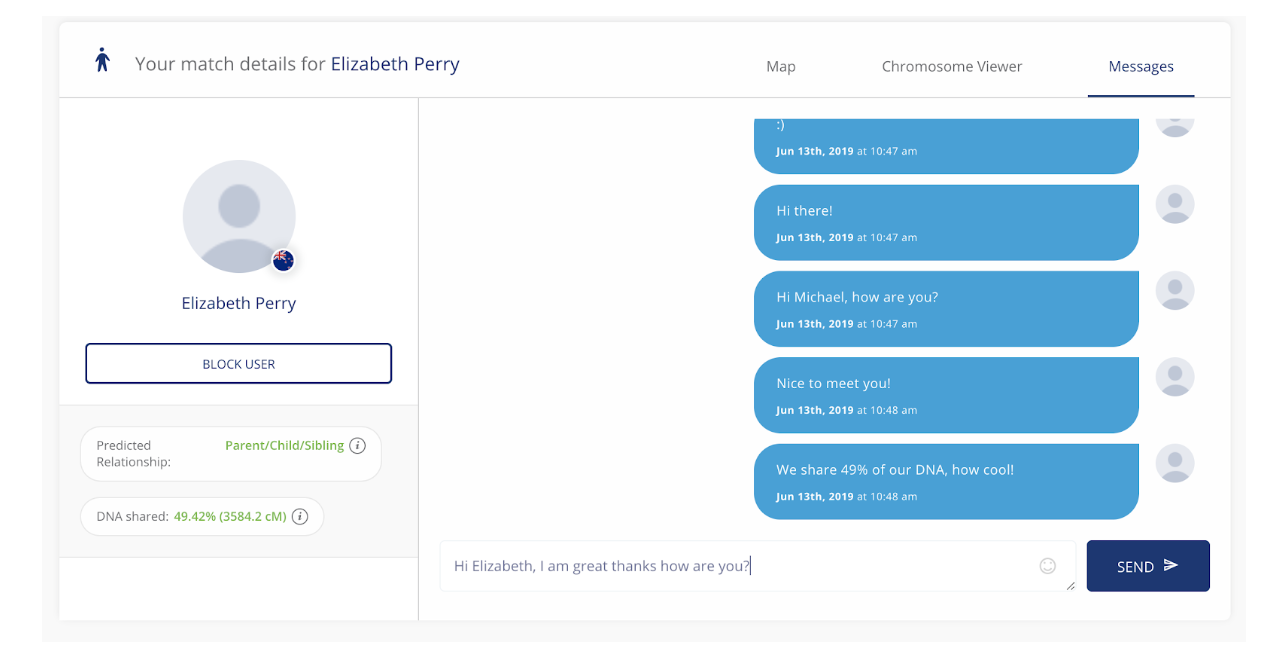 Top tip - hitting Enter or Return on your keyboard while typing your message will not send your message. You must click the 'Send' button for the message sent to your match. We understand reaching out to a match can be exciting so this feature was purposefully designed to allow you to check the content of your message before sending.
We would like to thank everyone that took part in our initial messaging feedback survey. Our team are working hard to implement any updates and improvements to this particular feature over the coming months.
The first update to be implemented is the sending of an email notification once you have received a message from a family match. This should now be live in your portals, the ability to opt-out of receiving these notifications will be live in the next few weeks.
Do you know anyone in your family who has existing data that you can invite to join and upload via your portal?
If someone else in your family has uploaded, and you opted in at different times it is possible that you will not see the match until the next release of new members. If it's been longer than three weeks since you both opted in please let us know the Test IDs (beginning LD or LT) for you both, so we can investigate further. If you do not have other known family members who have tested with us and opted in it is possible that you may not have any matches until our database grows. All new members are released into the pool every two weeks and the matching algorithms are run after this, so it's worth checking in to your portal every three weeks or so. Log into your portal here to get started!